KOICHI YAMAMOTO

fall 2012
Koichi Yamamoto is an artist who merges traditional and contemporary techniques so as to develop unique and innovative approaches to the language of printmaking. His prints explore issues of the sublime, memory, and atmosphere. Koichi has worked at many scales, from small and meticulously engraved copper plates to large monotypes. He completed a BFA at the Pacific Northwest College of Art in Portland, Oregon and then moved to Krakow, Poland, later he studied engraving at the Bratislava Academy of Fine Arts in the Slovak Republic. Koichi also studied at the Academy of Fine Arts in Poznan, Poland and completed an MFA at the University of Alberta, Canada. In addition he has worked as a textile designer in Fredericia, Denmark. Koichi has exhibited internationally. He has taught at Utah State University and the University of Delaware and is currently an Associate Professor at University of Tennessee, Knoxville.
www.yamamotoprintmaking.com
كويتشي ياماموتو
خريف ٢٠١٢

كويتشي ياماموتو، فنان يدمج التقنيات التقليدية والمعاصرة من أجل تطوير مناهج فريدة ومبتكرة للغة الطباعة. تستكشف مطبوعاته قضايا السامية والذاكرة والغلاف الجوي. عمل كويتشي على العديد من المقاييس، من الألواح النحاسية الصغيرة والمحفوظة بدقة إلى الأحاديات الكبيرة. أكمل شهادة البكالوريوس في الفنون الجميلة من كلية شمال غرب المحيط الهادئ للفنون في بورتلاند، أوريغون ثم انتقل إلى كراكوف، بولندا. درس في وقت لاحق النقش في أكاديمية براتيسلافا للفنون الجميلة في جمهورية سلوفاكيا. كما درس أيضا في أكاديمية الفنون الجميلة في بوزنان، بولندا وأكمل شهادة الماجستير في جامعة ألبرتا، كندا. كما عمل بالإضافة إلى ذلك، كمصمم نسيج في فريدريسيا، الدنمارك. عرضت أعماله دوليا. قام كويتشي بالتدريس في كل من جامعة ولاية يوتا وجامعة ديلاوير وهو حاليا أستاذ مشارك في جامعة تينيسي في نوكسفيل.
> project
Untitled
2012
(in collaboration with VCUQatar student assistants)
28 x 40.5"
Paper: Somerset Satin
Edition: 1
Untitled
2012
(in collaboration with VCUQatar student assistants)
27.5 x 40.5"
Paper: Somerset Satin
Edition: 1
Untitled
2012
(in collaboration with VCUQatar student assistants)
28 x 42"
Paper: Somerset Satin
Edition: 1
Untitled
2012
(in collaboration with VCUQatar student assistants)
27 x 38"
Paper: Somerset Satin
Edition: 1
المشروع<

Untitled
2012
(in collaboration with VCUQatar student assistants)
26 x 39.5"
Paper: Somerset Satin
Edition: 1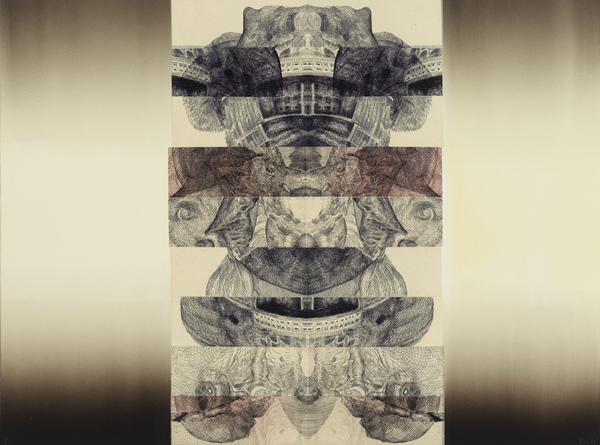 Untitled
2012
(in collaboration with VCUQatar student assistants)
26.5 x 39.5"
Paper: Somerset Satin
Edition: 1
> project process الخطوات العملية<